With an avid interest in politics from 16 years of age, he has been head of several Italian youth organizations paving the way to meet and speak with Italy's Education Minister Patrizio Bianchi (in former PM Mario Draghi's government). Italy's recent elections were worthy of consideration, Far-Right leader Giorgia Meloni has claimed victory in Italy's election, and is on course to become the country's first female prime minister, he said. In an interview, he shares his views and experience of life in Vilnius, where he plans to spend the next year.
- Why did you come to Lithuania?
- I am in my last year of Bachelor's Degree studies in political science at the University of Milan. I wanted to spend a year abroad and my University suggested I take a look at Lithuania and some of the universities there. I wanted to discover the culture, traditions of a new country. It's a way for me to grow as well.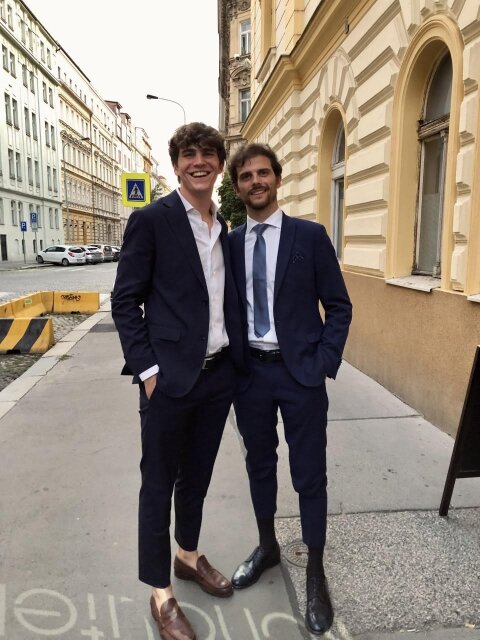 - What inspired you to come to Vilnius?
- I looked at University websites online. I was fascinated by the MRU website and communications. They have a good way of communicating with students and via social media and the website. I found the MRU website well-organized and good to understand, especially for those of us seeking an Erasmus grant for studies. MRU is an interesting university from an innovative point of view.
The University "was born" in the 1990's. It is very modern, and up-to-date. When I wrote to inquire about the application process, I received a quick response to my questions. Now, I have so many ideas that I would like to implement. For example, I would like to start an Erasmus Student Association at MRU. It would be an opportunity to meet and speak with the management of the University and then to do some interesting projects.
- What did you know about Lithuania before coming?
- Well, honestly, nothing. But now I am immersing myself fully in student life. I am trying to see as much of the city as possible and attend cultural events such as a performance at the Vilnius National Opera House last weekend.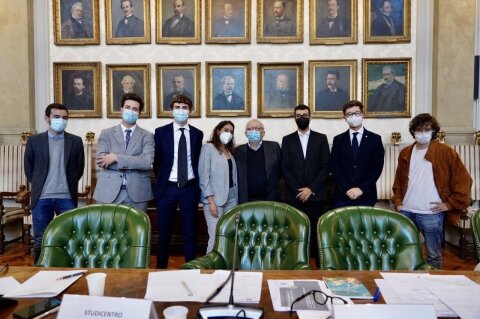 - What are some differences you have noticed in Vilnius compared to Milan?
- Definitely, the food is different. The pink beet (summer) soup is indeed very cold and unusual. You have other times for eating than we do in Italy. We eat dinner much later, after 8 pm, for example. Vilnius is a beautiful capital and I appreciate living here very much. Vilnius and the people here are friendly and very welcoming, especially the University staff and mentors helping us, students, to adjust to University life on campus.
- Recently there were elections in Italy. What is your opinion about the latest election in Italy?
- The fact is first of all I'm not happy because a lot of people didn't go to vote. Only 63% of registered voters showed up and voted. The percentage of young people between the ages of 18-34
that didn't vote is very high - about 37%. We have to do something in order to make our colleagues aware and want to participate in their civic duty, otherwise, politicians will decide for us.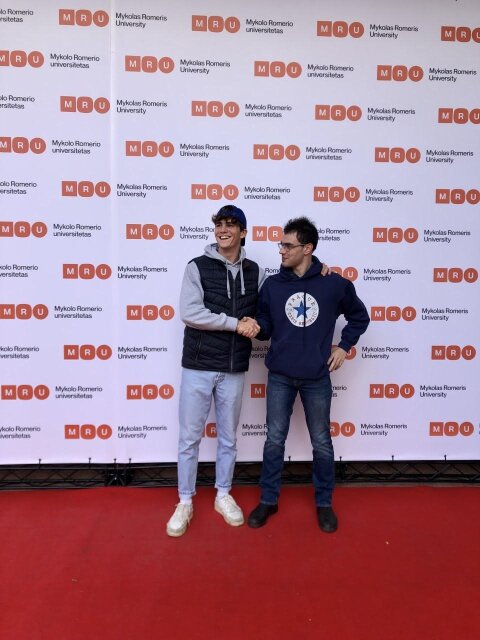 So you have to do your best to come up with ideas and bring those ideas to the table. I was reading some international newspapers and some say Italy is "returning to fascism" or that the Right will be dangerous. The Far Right leader Giorgia Meloni, who will apparently form the next government, has distanced herself from fascism. We will see if she will be able to lead and govern a country, Italy. I'm saying this being far away from Italy myself now in Lithuania.
- What are your future plans? You have a brother who completed studies in the Czech Republic and is now working in Prague for Procter&Gamble and another is working for chocolate maker Ferrero in New York. An older sister works as a school teacher in Rovereto. And what about your future plans?
- I am not sure. Perhaps I will work in a private company and continue my interest in politics. I would like to have a steady full-time job and then perhaps run for office or parliament. But there still remains time to decide about that. I plan to pursue my Master's Degree studies perhaps abroad.