My tortured screams after the tragic ending, along with the screams and wails of the hundred other Lithuanian fans who had crowded into the Grand Duke's Lithuanian restaurant in the southwest suburbs of Chicago, were probably loud enough to be heard for miles around. We had spent the majority of the game cautiously optimistic as it seemed like Lithuania had the game well under control. At one point late in the third quarter, I believe Lithuania even enjoyed a double-digit lead. In typical fashion, again we became that scrappy team who fights fiercely to the bitter end against really good teams but still manages to lose the game.
I don't want to rehash the events of this game too much, it hurts too bad to belabor the point that we could have won the game if only we had done this or did that. Suffice to say we should have won. Spain this year was not as strong as they had been in years past, their core of the Gasol brothers and Ricky Rubio have since retired from the national team. They basically had to nationalize good international players the way a lot of European teams (except Lithuania) have done in order to stay relevant. What truly hurt about this one more than the other ones is the fact that we seemed to have figured out the magic formula in that third quarter, with the right personnel on the floor, and as usual the Lithuanian coaching staff felt the need to tinker with that success which totally messed up the beautiful and fragile team chemistry.
In this case, when Lithuania took that commanding lead in the second half, we were playing my recommended small ball lineup of: Rokas Jokubaitis or Lukas Lekavičius, Marius Grigonis, Ignas Bradzeikis or Arnas Butkevičius, Mindaugas Kuzminskas, and Domas at the center spot. JV had his monster games against Bosnia and Hungary, but in this one he was not playing well.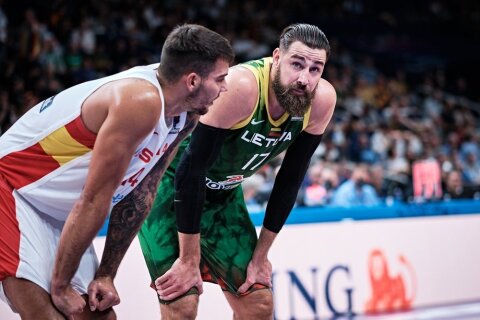 Mindaugas Kuzminskas was the scoring machine (18 pts) in this one and was having great success as usual playing alongside Domas in the front court, who was finding him for open shots. I can't stress this enough as a basketball coach. IF IT AIN'T BROKE, DON'T FIX IT! Some combination of these 7 players exclusively should have stayed on the court and played this one out. JV might have been a little upset getting benched, he is truly a great player and should get minutes. When he has four fouls however and can't seem to get much going offensively like in this one, I think he would have understood that he needed to sit this one out for the greater good. After all, like most Lithuanian players, the team comes first and your own ego second.
Rokas Giedraitis was also having a terrible game, not only was he not scoring, but committing silly fouls on the perimeter gambling for steals when their team was in the bonus and they kept getting free throws from these mishaps. Martynas Echodas looked absolutely lost in the few minutes he was on the floor against the Hernangomez brothers too, not sure why the coach felt the need to inject him.
Again not to belabor the point, but as a coach, I feel like you should tinker with your lineup in the first half and determine which players are matched up well or are feeling it with the hot hand and are having success, then you shorten your roster in the second half and ride it out with those fewer guys. When Domas has proven he is the alpha dog in this particular matchup as JV was in other games, you ride it out with him and let him go berserk. The reason you play them one at a time not together as a committee is you must find out which one has the inner alpha dog in that particular contest and run with it.
These criticisms, which probably sound like monday morning quarterbacking, doesn't negate the fact that I really want to give so much credit to the whole entirety of the Lithuanian National team! They fought hard to the bitter end and sacrificed so much to represent us in this tournament. They all deserve respect! I hate to say it, but we have sort of become the team that everyone hates playing against and can give any team,no matter how ranked, a mighty good scare. This is evident on social media too as so many non-Lithuanians, commenting in the FIBA posts about the games, say that team LT is the team they respect and fear playing against the most. This is a team who does not play for money but national honor and respect. They know that the whole nation and the worldwide Lithuanian community respect and admire them so much every time they suit up in their green jerseys for battle. Much love and respect to these warriors who highly deserve it, no matter what was the ultimate result!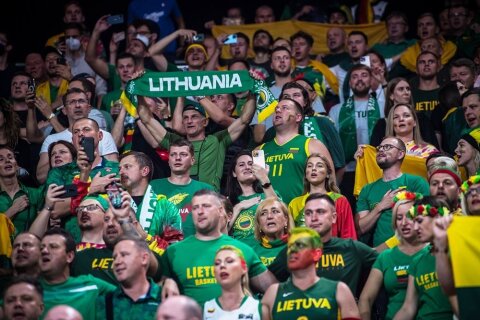 5 reasons Lithuania is going to be a powerhouse going forward
They are a young team. At the ripe old age of 32, Mindaugas Kuzminskas is the geriatric senior veteran of the team! Domas and JV, who are the core pieces, are not even 30 years old yet. Ignas Bradzeikis is such an incredible young talent that proved why he is essential to this team during both tournaments this year, and he is only 23 years old . Rokas Jokubaitis is the young point guard of the future for this national team and is barely old enough to have a beer in the United States at a mere 21 years old! All the other players are in their 20's somewhere so they have several future tournaments in them for sure. Not to mention the fact that the junior teams for Lithuania have some unbelievable talent , especially the silver medal winning U20 team. That narrative of the elite junior teams was an excellent footnote to this year's tournament. If you could say anything about the Lithuanian national team in this tournament, you would have to say they are too young, lacking in the experience necessary to win close games at the very end in crunch time which was definitely evident this go around. All of those weaknesses will autocorrect as this core grows older and more experienced together. Mark my words, whenever the exact moment happens of hitting the confluence of energetic youth tempered by wisdom and good judgement, that is the year Lithuania brings home a medal!
There is talk that Kazys Maksvytis will step down and Šarunas Jasikevičius will finally take over as head coach. After this tournament ended so unfortunately, Kazys Maksvytis mentioned in the press conference that he wasn't sure whether or not he would continue as the head coach. If you ask me, if he steps down or isn't reinstated, I would think it would be a golden opportunity to finally bring in Šaras for the World Cup next year which we are poised to qualify for. Don't get me wrong , I don't want to badmouth Maksvytis for the job he did this year, we did have a very tough tournament schedule in the "group of death" and also as I mentioned he had a very young group of guys to work with. This as I also said, is detrimental in end of game situations as was the case many times this year. In addition to that he had to deal with the hyper-critical Lithuanian fan base second guess him at every turn. At the risk of being one of those armchair quarterbacks myself (too late), I have to honestly rate his performance a C grade overall this year, not good enough to run my national team but also not entirely terrible. In my opinion, he went with JV and Domas together far too often which is not feasible for long periods of time. Let's face it, they are both centers and you just don't play two centers on the floor at once, it just doesn't work. One at a time, awarding bigger minutes to the alpha male who is having a better game.
If Šaras accepts the challenge of becoming the new head coach we will be getting one of the greatest former players in Lithuanian basketball history as the new leader. This is someone EVERYONE respects and respect is vital for a coach to get his players to fully buy in to whatever philosophy he is trying to implement. In Šaras case, he has proven as a coach that he is just as crafty and unconventional as when he was the national team's star point guard, winning the gold in the 2003 Eurobasket and bringing home so much honor for the nation. In my opinion, this year's high hopes getting crushed so brutally might just be a blessing in disguise if it serves as a catalyst to finally recruit Šaras. I'm not going to be the only one saying that he is necessary right now trust me. Even if they bring Šaras in and it proves to be a total disaster, wouldn't we at least want to check this off the list of possibilities to try ? At the very least he would really help in the development of Rokas Jokubaitis, who is definitely going to be playing point guard for foreseeable future. Wouldn't you want a world-class point guard like Jadikevičius developing this young point guard to maximize his potential? It's worth a shot, Lithuania let's take that chance!!!
Rokas Jokubaitis is the point guard of the future. Expanding on what I mentioned in the last section, even if Šaras doesn't get offered or want to take the job, we still got one of the most talented young point guards going forward in Rokas Jokubaitis. As I said before, he is only 21 years old! In the recent past, we haven't seemed to be able to get a true point guard and that has hindered us. Kalnietis as great as he was, always has been a shooting guard who they turned into a point guard. I'm not saying Kalnietis shouldn't be considered among the great players of Lithuanian basketball, just the opposite. His silver medal Eurobasket performance in 2015 was epic! I'm simply imagining what would have happened if Kalnietis had been able to slide over and play his natural position at the 2 spot had we had on the roster a true point guard of the caliber of Jokubaitis.
What is great about Rokas Jokubaitis style of play is even at the age of 21 he is already a "triple threat", which means he can shoot, drive or pass thus keeping the opponents guessing. His soft touch around the rim and his deadly pull up jumper combined with the ability to feed the elite Lithuanian big men with gorgeous passes is an incredible skill. I don't want to gloss over his pestering defense and three point shooting ability either. Both of these skills he has at an incredible level... AT AGE 21! In my opinion he has plenty of room to grow and gain experience, this tournament being one of those learning experiences, but considering his youth and talent level we are indeed looking at a bright future with him as our elite point guard!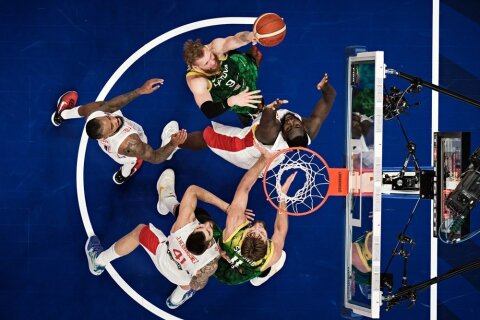 The other factor in this equation is Lukas Lekavičius. He is ALSO an excellent young point guard! It seems as though we truly have a wealth of good point guards now which is the complete opposite of the recent past which I discussed. I'd even go so far as to say play Lekavičius and Jokubaitis together at times. The sample size of trying this is so incredibly small but they actually were forced to do this in in the OT period vs Spain when Marius Grigonis was sidelined with some kind of injury. I kept saying to the guy I was sitting next to at the bar in Chicago that I wished they had been able to try this experiment longer. In their short amount of time on the floor together, LT came back from being down 8 points to within one point. This was when the controversial FIBA unsportsmanlike foul was called, virtually deciding the outcome of the game. Putting that aside however and sticking to my point, it's great to have a wealth of young point guards for Lithuania!
Iggy is part of the Lugan mafija now! In the Lithuanian national anthem there is a line that translates to "Let your children go" meaning emigrate to other parts of the world. This is because they won't forget their heritage and many will ultimately even come back home to the motherland, bringing their talents and skills with them. This is definitely the case with Ignas Bradzeikis! Raised in Canada but born in Kaunas, Iggy is now officially a member of our national squad and has already become a fan favorite this summer. I got the pleasure of watching his very first games live when I was in Lithuania early this summer in the World Cup qualifier tournament matches when he got a bigger role on the team without JV or Domas. While watching those early games and witnessing his success, I remember saying to myself, "this is EXACTLY what we needed!" As a dual citizen now, he seems like he fits in perfectly with the guys who like playing with him and respect him as one of them. Yet another silver lining from this aborted Eurobasket season was getting Iggy acclimated to the national team! We also need to remember he is only 23 years old, and just signed a contract to play with the storied Kaunas Žalgiris team, so he will be in country for the duration. This is definitely a good thing as he improves his LT language skills and grows more accustomed to being in the Lithuanian basketball culture of team first play and not the NBA culture of individual stats.
The team is hungrier to win than I've seen in a long time. I'm not saying that we didn't want to win in the past, the players try like hell every single time they suit up in their green battle shirts. I'm simply saying the difference now is we sense that NOW is our golden opportunity window based on personnel we currently have on the squad. I predicted we would be a medal contender before the tournament began and final result notwithstanding I was definitely right. We played EVERY SINGLE highly ranked team super close and had a chance to win against all the best contenders. It was either inexperience, over-coaching or good old FIBA referees that did us in every single time. In years past, we have always had the "6th man of the year", or the Lithuanian fans,well traveling to support their team and country. This year it was simply unbelievable looking out at the sea of green in the crowds in Germany. Sekla,the ultimate super fan with his ridiculously long beard and his big bass drum definitely had a lot of company this go around. We KNOW we are ready for more medals as a nation and we have a sense of urgency now to employ these excellent players to their logical conclusion of that medal podium. It's like in the great movie series 'Rocky' when Apollo Creed told Rocky Balboa in order to win he needed to get that "eye of the tiger" back. This is that laser focus, or sense of urgency. That eye if the tiger I think this team, and the fan base have and it will lead us back to the promised land of medals once again.
This ends yet another Lithuanian basketball season where we go home without a medak but let not your heart be troubled! The reasons I outlined will ultimately get us right back where we want to be trust me on this. As the famous line goes in the song 'Trys Milijonai' it translates - Don't torture yourself over medals, the most important thing is fighting to the end for our national honor ! This is true indeed, especially this year, but I predict with a little (more) patience, that fighting spirit Mikutavičius sings about will be the REASON why we WILL WIN more medals! Like so many other screaming Lithuanian fans, whether in a Lugan bar in Chicago or on the streets of Vilnius, I am ready for it!
MES UŽ LIETUVĄ!