This game from beginning to end was either team's to win or lose. Unfortunately, Lithuania seemed to deflate towards the very end after several silly turnovers and momentum-killing calls from the officials like the unsportsmanlike foul call against Jonas Valančiunas when Luka Doncic clearly embellished the contact to deceive the officials. This happened in the closing minutes when the game could have gone either way,just not Lithuania's this time. Lithuania now has to keep going further into the meat-grinder of their "group of death" and beat France if they want to bounce back which I believe they are fully capable of doing.
The B group of this Euro basket tournament LT drew some heavy hitters for their opponents. Slovenia, who they lost to today were the defending champs, led by NBA stud Luka Doncic.
They also have to face medal-winning France , a re-invigorated Germany on their home floor and add in a tough Bosnian squad along with scrappy Hungary and you better strap in for a wild ride!
Analysis of key personnel
The core of the Lithuanian squad rests on their elite NBA big men Jonas Valančiunas and Domantas Sabonis. Both are excellent centers but the problem is they are BOTH CENTERS! It's risky to have two centers on the floor together because they are generally slower and a quick,
guard-led team like Slovenia can exploit this weakness. In this matchup , if I were in Kazys Maksvytis shoes, I probably would have sat JV late in the game and gone with only Domas at the center, who was starting to really do damage until the coach decided to take him out for some reason. The cardinal rule, which Lithuanian coaches always tend to ignore, is "if it ain't broke don't fix it". Domas is a little quicker than JV, and he's always had good success playing with
Mindaugas Kuzminskas, who was the only Lithuanian player today that unequivocally had an outstanding game, scoring 20 points. Although JV is an awesome player and can destroy other big man dominated teams(see you soon France and Gobert), this simply might not have been
the best matchup for him today.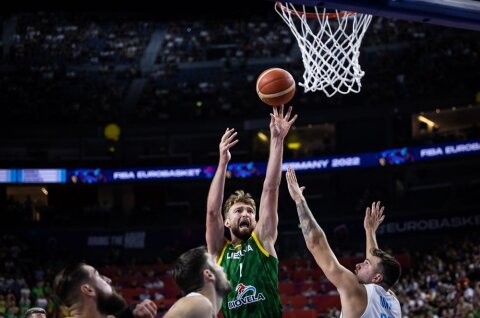 Mindaugas Kuzminskas and Ignas Bradzeikis seemed to be at the heart of everything good for the green machine today. Kuzminskas , the elder statesmen for the national team at 32 years old , showed once again his versatility and ability to get crucial baskets when they were
desperately needed, both inside and out. Bradzeikis, who is the young stud of the team and coming off his excellent debut performance in the early summer tournament, brought the effort and energy that seemed to be working to break down Slovenia's staunch defense. Both players
inexplicably were taken out late in the game for some reason.
The guard play for Lithuania is more solid than ever before with Lukas Lekavicius, Marius Grigonis and the young Rokas Jokubaitis. Lekavicius played really well today while jitters seemed to overcome the 21 year old Jokubaitis. Lukas Lekavicius provided a steady hand on the
wheel as the point guard and dribble penetrated very well in order to break down the defense and make a solid plays. Grigonis,who was captain of the team over the summer, showed why he can be a go-to scorer and knock down plenty of open threes or get floaters off the drive. I have high hopes for Rokas Jokubaitis,who will one day undoubtedly be running this team after he gains some valuable experience. Today was one of those learning moments for him and he
didn't play the best.
The middle forwards are the extremely talented and athletic European club players, Rokas Giedraitis and Arnas Butkevicius. Both are essentially role players who have the potential to flare up, they just really didn't do that today. Giedraitis was decent at times, hitting a couple of three pointers, but Butkevicius as a replacement late in the game for Ignas Bradzeikis was an ill-fated substitution on coach's part. Not that Butkevicius isn't a good player, he's excellent. He
just didn't have the hot hand today and Iggy did. I felt coach should have ran with Iggy late.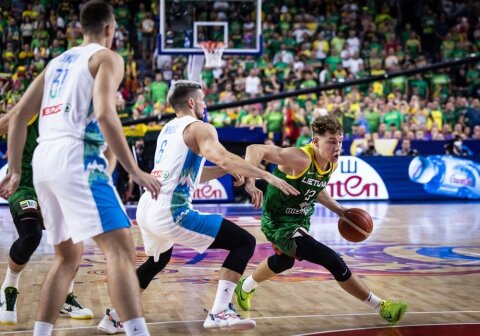 Let's take a step back and catch a deep breath going forward. Putting things in perspective, this was just the first game of group play against the defending champs led by an NBA MVP caliber
captain in Luka Doncic. Trust me, had Lithuania been the team on top after this see-saw of a game I would be jumping for joy, but that just wasn't the case. The fact that we even went toe-to-toe against a team this good and endured all fifteen rounds so to speak was an amazing feat in and of itself. We can and should use this opening loss to our advantage going forward however!
The first two games we just so happened to face the two toughest possible opponents in Slovenia and France. Is this a coincidence? Probably. FIBA on the other hand has not been known for loving Lithuanians all that much, especially after the 2019 fiasco of officiating when Gobert clearly interfered with a JV free throw that was about to go in and no call was made by the officials . This would have probably given Lithuania the win and a good chance at a medal in that Euro Basket tourney, plus automatic Olympic qualification had they made the right call.
Lithuanians in the country as well as abroad were of course not too happy about the injustice and many took to social media to blast FIBA , who recognized the mistake yet did nothing about it. Conspiracy theories aside, it's in my opinion a good thing to have a very tough couple of opening games for Lithuania in group B this year. The "fire under the proverbial butt" has now been lit and we need to focus hard in order to get the next one!
I much prefer that this loss came in game one. JV will now get ready to have one of his patented bounce-back performances which will be even sweeter in order to maybe get a little payback against Gobert and France for what happened in 2019. Whatever narrative works to motivate
you than that's what coach needs to emphasize in the locker room. JV is a true professional and a proud competitor for our team and he will indeed be ready for game two no doubt in my mind!
Losing performs the key function of focusing a team and giving them a perfect sense of urgency. I predict Lithuania gets the next one and every single other one after that...this is definitely a team worthy of the medal podium!