On 19 November, the programme goes global in the form of Alter State - a platform aiming to bring together tech-spirited women from female entrepreneurs from the Baltics and the Nordics. The Alter State international women innovation sprint seeks to attract up to 200 participants to tackle some 40 business challenges under the guidance of experienced mentors, the organisers announce in a press release.
A gender gap in innovation
One might speculate about gender gaps narrowing in tech, but the stats don't lie. Only 17% of start-ups founded globally last year were set up by women. And in the EU, just over a tenth of women-founded start-ups received VC investment, attracting significantly less funding compared to men-led start-ups.
Even the Nordic countries, typically considered frontrunners in gender equality, display significant gender disparities in this field. The Female Entrepreneurship in the Nordics 2020 study conducted by Nordic Innovation shows that there are far fewer women entrepreneurs across the region - between 4-8% of the female workforce in the Nordics are currently entrepreneurs, compared to 9-17% of the men. The study also concluded that women have less access to role models and smaller networks.
"We want to change these numbers," says Justina Klyvienė, co-founder of Alter State. "Through our series of innovation sprints, we aim to create pathways for all women to have a seat at the innovators table."
A recent report by Boston Consulting Group shows that start-ups led by women entrepreneurs tend to perform better – tech firms established by women generate twice as much revenue per dollar invested. "Female creativity and entrepreneurial potential are a hugely under-exploited source of jobs and economic growth," Klyvienė notes. "Women are more than capable of designing better futures, and the Alter State is a great way to start."
Two-weeks of mentorship and training
During the Alter State innovation sprint, participants will be invited to experiment and test ideas that help combat global challenges across a wide range of industries. As clean energy, quality education, sustainable cities and other global issues occupy an increasingly important place in the agendas of politicians, business leaders and investors alike, the organizers are looking for projects and ideas focused on the UN Sustainable Development Goals.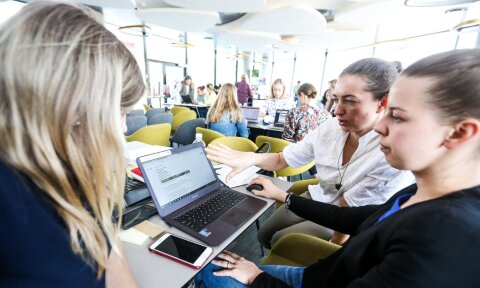 The women innovation sprint idea has been tried out in Lithuania, and the success of the project encouraged the organizers to expand its scope. "The lockdown provided impetus to be more ambitious in our efforts to encourage female-led innovation. The current global pandemic not only highlighted the need for creativity, innovation and digital solutions, but also demonstrated that we are able to work together closely despite being separated by vast distances," Živilė Skibarkienė, Board member and Organizational development director at international energy company Ignitis Group says. She added that the energy sector is one of the most promising areas where tech-spirited women should apply their skills.
"Today the energy sector is undergoing a massive transformation and is full of challenges. Robotics engineering, digital solutions - women in tech can find their niche here that's both interesting and challenging".
Going regional seemed obvious, and the invitation to the Alter State online innovation sprint was extended to the tech-minded women of Latvia, Estonia, Denmark, Sweden, Norway, Iceland and Finland.
"In the future, we are sure to see even more instances of like-minded people teaming up to develop ideas they care about, no matter their location. The Alter State is a chance to connect with fellow entrepreneurs and aspiring global change-makers from the region," says Šarūnė Smalakytė Head of Rockit.
The Alter State consists of two afternoon-long online design sprints. Industry experts acting as mentors will take the teams through the process of ideation, prototype building and testing, business model development and sales pitch. In addition to mentorship, the participants will be provided with training in skills like financial planning and marketing.
"At the end of the programme, we expect to have prototype products or services that could develop into innovation driven start-ups. Equally important, however, is having a community for further cooperation and idea sharing," says Šarūnė Smalakytė Head of Rockit. "One of the best values participants get from the Alter State is joining the strong network of women innovators that enable each other to thrive in the tech world."
The online innovation sprint has already opened applications for potential challenge owners, participants, mentors, and sponsors.