Fluent in French and English, 23-year-old Marco, who hails from Venice, can spend hours talking about architecture, Italian politics, food, the importance of dressing up to take an exam at University and his love of Central Europe. Having visited Poland, Croatia, Romania, Serbia and Estonia, he decided to pursue law studies in Vilnius. He shared some of his impressions about Vilnius and Lithuania.
- Why did you decide to come to Vilnius?
- I decided to spend an exchange semester abroad because I didn't want to live in Milan for another year. I wanted a less stressful city to live and study in. So, when I was selected from my University to go to Mykolas Romeris University in Vilnius, it was the right choice. Vilnius is a capital city, but not too big. It was the right fit. As a law student, I am fortunate to be here at MRU.
- You completed gymnasium studies in Italy with a heavy emphasis on Latin, Greek and the classics. This gave you a good grounding for further studying the history of Central Europe?
- Yes, I attended the most important gymnasium in Venice and we studied history, architecture, ancient Greek, Latin. Coming to Lithuania was strange for me because most Italians do not know much about Lithuania. My two grandmothers were scared, when I told them about studies in Vilnius. One thought I was going to Chernobyl and the other thought I was heading to Russia. Also, the Italian schools do not teach their pupils about Central Europe much. History books in Italy write about contemporary history up to the fall of the Berlin Wall. There is nothing about Lithuania's Singing Revolution of the late 1980's leading to independence. Also, no mention of the 1989 Baltic Human Chain when citizens from Latvia, Lithuania and Estonia joined hands. That is a shame.
- So, you have been reading much about the Baltic countries and their history before coming?
- Yes, I have been reading a lot. I watched many documentaries about Russia and Stalin to gain more information. I wanted to go to Moscow, but due to the pandemic now, it may not be possible while I am studying in Vilnius. I was interested in this part of the world because people were living in what was then-called the USSR. I find it so interesting that people could survive for so long living under a dictator. I come from a democratic country.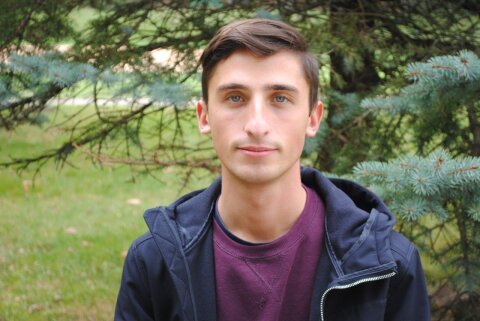 It is strange for a person like me, who lives in a democratic country to understand how people could live and survive under that type of system for 50 years. How is that possible? The aim of freedom is inside every person including the right not to be controlled. Maybe people could live under such a system for a year, 10 years, but for 50 years? How is that possible?
- You mentioned that you were drawn to Central Europe because of its nature, architecture and castles. Have you had the opportunity to visit some of these castles?
- I love Eastern European castles like Romania's Transylvanian castle. I also like Vilnius' Gediminas Hill Tower and the very beautiful Trakai castle. In Italy we don't have castles. We have palaces. In Italy, we had many Lords and they had their palaces. It is not so medieval like in Romania or even in Lithuania – with the Trakai Castle.
- What is it that makes Vilnius attractive, in your opinion?
- I love your landscape. I did notice that Vilnius is a very green city surrounded by forests. The Lithuanian forests differ let's say from Estonian forests due to the naturalness of the forest. In Italy there are parks, but here you have natural parks.
Last month I went to Žalieji ežerai just 5 kilometers from Vilnius. How is it possible that you have such a beautiful place – the lake, or even Verkių parkas, so close to the city? I couldn't believe what I was seeing.
- How does studying in Milan and studying at a Lithuanian university differ?
- In Milan, I have between 100-200 students attending a lecture with me. Here there are about 10 students. Also I noticed that people, as well as students here, I suppose, are not so well-dressed as in Italy. Also, in Italy you have to sit and listen to the professor during the lecture.
You should listen, but not interrupt him with questions. If you do have any questions, you ask them in private after the lecture. Here at Mykolas Romeris University you are used to discussions. I especially like the international atmosphere and the international student body at Mykolas Romeris University.
I have met so many different students - from Ukraine, Georgia, Kazakhstan at the university. Every day is an adventure when you are an exchange student. It's a different experience, a different routine than being at home in Milan. When in Milan,
I have a strict routine and one of my habits includes drinking ginseng coffee, which is sweet in taste. I have many friends in Italy and could drink up to 3 coffees a day, when I meet with them.
- What are the differences that you see between Vilnius and Milan?
- In Vilnius you are not so stressed. People in Milan are competitive. Also I think the weather in Vilius helps you to relax more. There are many differences.
For once, I noticed that young students do not pay much attention to the way they dress here – especially male students and often lack "coordination of colour." At my University in Milan you have to be dressed elegantly to attend lectures and especially exams. I know some students who were refused to take an exam because they were not dressed for the occasion. In Lithuania, I noticed that many people dress all in black. We are not used to this in Milan and avoid dressing completely in black.
- After you graduate, what will you do?
- I would like to work in a civil service job, perhaps the foreign service in Italy or the United Nations or for an institution of the European Union.