The newest fire rescue vehicle was delivered to Palanga Airport in December 2019. After special trainings for the airport's firefighters, the Rosenbauer Panther is now fully ready for service, Lithuanian Airports announce in a press release.
"For Lithuanian Airports, safety is a top priority. That is why we are investing in not only safe infrastructure, but also in the latest equipment which would enable us swiftly and reliably react to possible safety risks. The Rosenbauer Panther is equipped with the latest firefighting technology and adheres to the highest international airport vehicle standards", - states Andrius Daujotas, the Director of Palanga Airport.
According to Mr. Daujotas, similar or identical vehicles of this manufacturer are used at the biggest, busiest and most important airports around the world like London, Singapore, Dubai, Paris, Dusseldorf, and other.
Modern firefighting equipment
This Rosenbauer Panther cost Lithuanian Airports 567 000 EUR. What sets this vehicle apart is not only an unusual shape, but also its characteristics.
This 34-tonne vehicle accelerates from 0 to 80 km/h in just under 29 seconds. Its maximum speed – 125 km/h. It has a 700 HP, 16.1 litre Volvo engine and an all six wheel-drive. The Panther is equipped with a thermal camera that identifies the exact fire location. Also, this new vehicle has more modern firefighting equipment.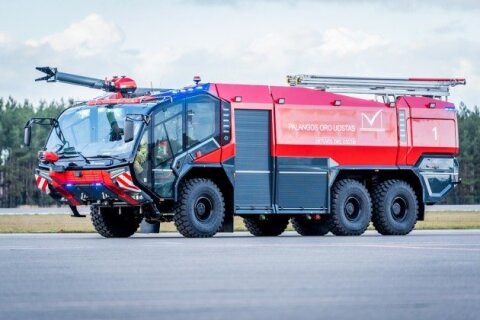 The vehicle has two powerful water turrets mounted on the front and on the roof of the Panther. It also houses a more powerful water pump, high-pressure hoses, an extinguishing powder system, and a 11 000-litre water tank.
According to the Director of Palanga Airport, Andrius Daujotas, manufacturers of such vehicles equip them with the latest technologies that help combat emergency situations. "Even though such vehicles look complicated, they are, in fact, easy to use as the manufacturer aims to provide ease-of-use for the firefighters. Our team is fully ready for duty with this newest vehicle in our fleet", - adds Mr. Daujotas.