Hailing from Kyiv, which now boasts a thriving coffee culture, Kyryliuk spent time in London in her youth, where she grew to love tea. "I'm not a typical Ukrainian because I spent a lot of time abroad", said the 21-year-old student now making Vilnius her home.
- What are you doing in Vilnius?
- I am a student here in the Bachelor's Degree programme at Mykolas Romeris University. I am studying Communication and Digital Marketing. I was in Ukraine and started searching for Communication programmes on the Internet. I just googled "Communication" programmes in Europe and ended up here in Vilnius.
- You have traveled widely since you were very young?
- Yes, I lived with my parents in the Netherlands. There was a time when I spoke Dutch better than Russian. That was my early childhood when I was about 6 years old. Then I moved to London when I was 10 years old and spent a few years there. I returned to Ukraine and at 17 years old, began studies in English and Spanish and translation. You know sometimes I feel more European than Ukrainian.
- When you're not studying, you are interested in photography and searching for a perfect cup of coffee?
- Yes. My friend and I are on a mission to find the best coffee place in Vilnius. In Kyiv, the coffee is very good. Good coffee depends on many different things. It's good here, but not as good as in Kyiv. During the last 5 years, Kyiv has changed so much. People have been coming to Kyiv and expressing their creativity. There are always new places, new cafes, new fashion boutiques opening up. But, I find that I'd like to learn to make the perfect cup of coffee, which is why I'm on the hunt for good coffee here.
- How many cafes have you visited in Vilnius?
- Elska, Taste Map, Backstage Cafe, Strangelove. I go to Elska all the time. I always go back to them and have a cappuccino or a latte.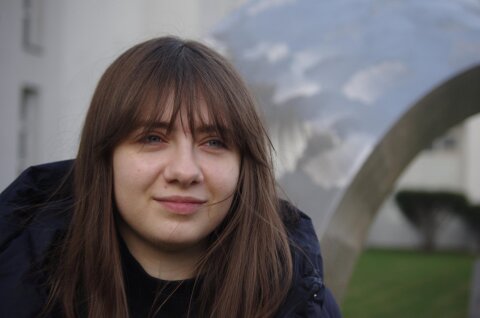 - What about photography? So you take all kinds of photos?
- Mostly I photograph people. I am interested in portrait photography. I recently switched to film photography. In Ukraine, you now see people filming all the time. It's very trendy.
- You are a polyglot speaking Russian, Ukrainian, Spanish, English with a London accent and also like tea.
- Well, yes, when I tell people that I am from Ukraine, they do a double-take. When I google something, I do it in English. And yes, my mother and I like tea. I don't have a specific tea that I like, but at home, we have at least 30 different kinds of tea. Sometimes it's hard to decide what tea to drink. Usually, every day is an adventure – "what kind of tea will I go for?"
- How about Lithuanian? Are you studying Lithuanian? Have you learned a bit?
- Yes, I really want to learn Lithuanian. In Vilnius, I have never been in a situation where someone didn't speak Russian or English.
- What did you know about Vilnius before coming?
- Not much. My father spent his childhood in Vilnius, although he was born in Russia. When I told him I was going to Vilnius, he told me he loved Vilnius and said it's a nice place to go. When I came here, I noticed immediately it's not so densely populated as Kyiv. I also noticed living in Vilnius that people are more polite in Kyiv. The new, younger generation in Kyiv is very nice and open-minded. They are socially active and they participate, for example, going to protest meetings.
- Did you have any expectations before coming to Vilnius?
- No, not really. I did notice immediately that Vilnius is much quieter than Kyiv because the population of Kyiv is about 3-million people. Vilnius is much smaller. I am more used to more bustling cities, but yes, I find Vilnius very cozy. Also, I feel so happy here because I can get anywhere I need to go so quickly. There are few cars on the streets in Vilnius.
- After you graduate, what will you do?
- I will do my Master's Degree somewhere. I don't want to set limits on what I want to do. I wouldn't mind even going back to Kyiv and working in Kyiv.