To make things simpler, The Sole Supplier, Europe's leading sneaker news and retail platform, has standardised the latest data available for key categories - including the number of toilet and medical stations, average finish time, entry fees, air pollution levels and the quality of local accommodation - to rank marathons around the world from best to worst.
Of the 81 global IAAF-certified marathon courses studied, Germany's Haspa Marathon Hamburg takes the top spot, scoring an impressive 7.57 out of 10 thanks to its low starting entry fee (€66) and favourable altitude (8 metres above sea level).
It also has lots of toilet stations (42 along the course) and an average temperature of 12.3°C, which according to experts, is only 1.8°C higher than the ideal running temperature of 10.5 °C.
In second place is the International Vienna City Marathon, scoring 7.45 out of 10. The course scores a perfect 10 for its number of toilet stations (43 in total) and has a low risk of rainfall (8.32/10).
Vienna also boasts the fifth fastest average marathon finish time in the world of 4:00:01 (or 7.09/10), thanks to its favourable environmental conditions. It's no wonder pro-athlete Eliud Kipchoge recently chose the city to run the world's first sub two-hour marathon.
Cracovia Marathon in Poland (7.02/10), Danske Bank Vilnius Marathon in Lithuania (6.93/10) and Wizz Air Cluj Marathon in Romania (6.89/10) complete the top five.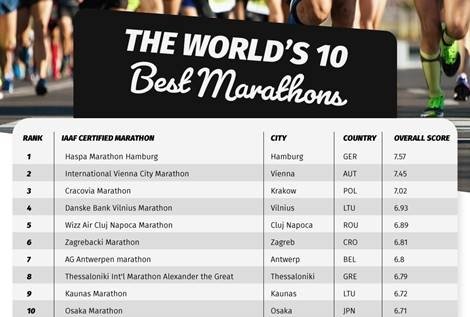 The marathons with the lowest overall scores are the Standard Chartered Kuala Lumpur Marathon, scoring just 3.69/10, followed by city marathons in Delhi (4/10), Singapore (4.18/10), Nairobi (4.24/10) and Ho Chi Minh City (4.3/10).
Runners at the Standard Chartered Kuala Lumpur Marathon may find their performance affected by poor air quality, with the city's air pollution score reaching 121. To put this into perspective, the 10 marathons with the cleanest air all score lower than 15. The H C Anderson Marathon in Denmark has the cleanest air of any world marathon (scoring 2).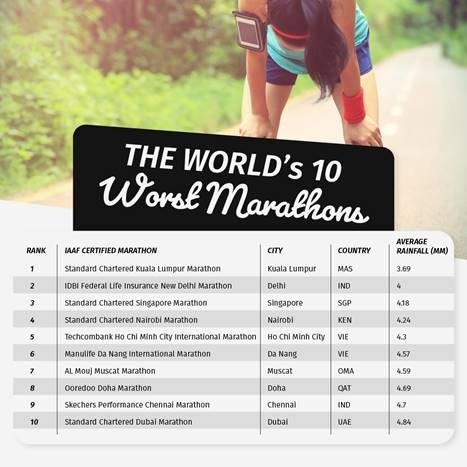 Kuala Lumpur is further let down by its high average race day temperature of 32°C (21.5°C above the optimal 10.5 °C temperature). Its scores for the quality of local accommodation (1.56/10) and the number of medical aid stations along the course (2.29/10) are also low, meaning runners' safety may be put at risk.