While Kaunas Jazz is the most-visited and most-anticipated event in Kaunas every April, May is a month even more full of all kinds of cultural experiences (most of them free of charge!) in our city. Check out the events we recommend and plan your trip.
May 4 – 5

Dance competition "Amber couple"
"Žalgirio" arena, Karaliaus Mindaugo pr. 50
This is the first, oldest and longest-running international dancesport competition in Lithuania. It's attended every year by the best dancer couple from both Lithuania and abroad, as well as international-class referees from at least 15 different countries. A concert program is presented every year, too, which includes international dancesport superstars and local music performers. The initiators of the contest are a well-known Lithuanian dancesport couple, honorary citizens of Kaunas Jūratė Norvaišienė and Česlovas Norvaiša and their dance club "Sūkurys".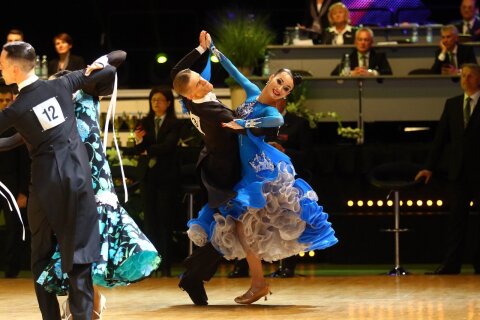 May 6 – 12
Design Week
Various locations
A nation-wide initiative of bringing designers of all kinds closer to people has planted its roots deeply in Kaunas, occupying many spaces all around town to celebrate Lithuanian talent for one week every year. In 2019, we recommend checking out the design film programme at Romuva cinema (Halston will be screened on May 11), visiting an exhibition of design students in the Old Town and planning a trip to the outstanding studio of jot jot creative team in Šančiai.
May 9 – 12
Gallery Weekend Kaunas 2019
Various locations
Gallery Weekend Kaunas is coming back for the fourth time to mark the ending of the gallery season by inviting to explore the multifaceted cultural skyscape of the city. The concentrated 4-day programme will activate around 30 artistic instances in both traditional and unconventional exposition spaces. The weekend will kick off with an unconventional event at the sports centre of Lithuanian Sports University in Žaliakalnis. An academic choir will meet a contemporary art performance – should be kaunastic!
The English-language programme for Gallery Weekend Kaunas should be available online very soon.
May 11
Kite festival
Zapyškis, Kauno raj.
For almost three decades kite enthusiasts, mostly families (thousands of them!), have been gathering in Nemunas valley in Zapyškis, district of Kaunas, near a beautiful little church, to colour the sky for one day.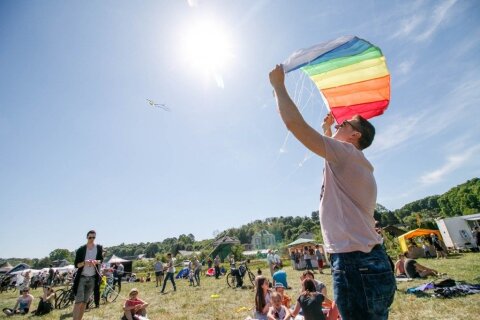 May 17 – 19
Kaunas City Birthday
Various locations
The third weekend of May is officially the birthday weekend of our 611-year-old city. Get ready for a three-day marathon representing the full scope of Kaunas, including its Hanseatic history, the colourful interwar period and the hopeful future. Three époques will melt into a singular event full of action, sound and light. The organisers have made sure there'll be something for everyone, despite his or her age and preferences.
The main stages of the Birthday weekend will be located at the Kaunas Castle and the Town Hall Square. The Old Town of Kaunas will be filled with pop-up activities including markets, trampoline parks, traditional craft workshops, exhibitions, drum shows, fire performances, Medieval dance classes etc. Check out our previous blog entry for more information.
May 18
Museum night
Various locations
Kaunas could easily be called "the city of museums". More than 20 of them are located here, including national, municipal and private institutions. A great time to explore them all it is the Museum Night or La Nuit des Musées, the international event scheduled for May 18 this year.


Many of the museums in Kaunas will be open late on Saturday, and by late we mean 10 pm or even midnight; the entrance to all of the participating institutions will be free of charge. A lot of the museums will offer carefully curated and exciting events! Check out our Culture Shock map for the list of museums in Kaunas and find out what each of them has planned.
May 18
Street music day
Various locations
Started some ten years ago in Vilnius by Andrius Mamontovas, one of the most famous Lithuanian musicians of all time, the day inviting all musicians (from classical pianists to DJs!) to perform on the streets has spread all over the country and abroad. Dozens and dozens of up and coming, famous and even legendary artists set up pop-up stages around Kaunas and make one wish this day would be celebrated at least every week.
May 23 – 24
European Capital of Culture Forum
"Žalgirio" arena, Karaliaus Mindaugo pr. 50
The European Capital of Culture Forum is an annual event initiated by the team of Kaunas – European Capital of Culture 2022, where leaders representing various creative fields from all around Europe come together for gaining and sharing knowledge, getting inspiration, networking and discussing the opportunities for cooperation.
This year, the umbrella topic of the Forum will be the "Human Factor". It helps to raise questions such as: do we consider the human factor before engaging in creative or business practices? How to leave one's "social bubble" and truly understand people who are different from us. Check out our previous blog entry for more information.
May 23
Neighbour Day
Laisvės alėja
Imagine bringing your dinner table to the longest pedestrian street in the region and sitting down for a pleasant evening with neighbours and friends you've just met. That's possible every May in Laisvės Alėja, thanks to the local artist Vytenis Jakas whose projects aim for a happier community. Join us if you don't have a table, too!
May 25
Putvinskio Street Day
Kaunas Artists' House and the community of V. Putvinskio street have started a new tradition that gathers everyone to this historical axis of Kaunas. Concerts, games, flea markets, readings and other activities have proven to be the highlights of the block party like no other.
May 31 – June 02
International Folklore Festival "Atataria Lamzdžiai"
Various locations
The traditional folk festival is held annually in May since 1984. The festival is visited by participants from as far as Cape Verde! The program stretches from the traditional song and dance performances to photography exhibitions, arts and crafts workshops and music lessons.
May 31
24th Pažaislis music festival opening concert: "Ode to Joy"
Pažaislis monastery, T. Masiulio g. 31
As every year the Pažaislis Music Festival is returning to Kaunas city and Kaunas region, as well as other concert spaces all over Lithuania. The opening concert will be held at the baroque monastery and will invite everyone to remember the emotions provided by classical forms of art. Lithuanian National Symphony Orchestra, Kaunas State Choir and soloists will perform various arias from classical operas; Beethoven's 9th will be the highlight of the event.