According to the prime minister, it is reflected in the future multiannual EU budget bill which is now being considered. Morawiecki believes that Central and Eastern European countries should not see cohesion funds allocated to them being cut in the 2021-2027 budget as they are already losing money taken out of their countries by Western companies in the form of dividends.
"Its Western European countries, which are quite rich, which would like to change the flows of money of the EU budget to increase their productivity and their competitiveness and not to let Central European countries increase our productivity and our competitiveness," Morawiecki said in an interview with BNS Lithuania.
In his words, cohesion funds or money for the common agricultural policy should be viewed as some sort of compensation for the outflow of capital.
"It is not completely comparing apples with apples, but this is money and this is money, so maybe it is apples and apples," the Polish prime minister said.
Morawiecki also accused Vice President of the European Commission Frans Timmermans of misuse after he announced last week about new actions against Poland over the judicial system reform.
As Poland has invited Belarusian President Olexander Lukashenko to Warsaw, the Polish prime minister also claimed to be supporting Lithuania's position on the Astravyets nuclear power plant and assured that their dialogue with Minsk is only limited to the goal to keep the door open.
Morawiecki said in Lithuania on Friday that the number of American troops in Poland will grow significantly in the upcoming years.
- You were in Mazeikiai and you visited the Orlen Lietuva refinery. How much the Polish government plans to invest into Orlen Lietuva and on what?
This is a very important investment for Poland as it is our biggest cooperation project. So our plans are quite expansionary, they are aimed at building new capacity for the refinery as well. We are actually importing oil from Mazeikiai, so Lithuania is a net exporter into Poland because of the capacity which has been built. As far as specific investment is concerned, I can not complement this information with some more specifics but I am absolutely certain that there are plans for further investments in Mazeikiai.
- Maybe you can tell it in euros?
- I won't be specific here, I cannot tell you yet.
A couple of years ago Lithuania's Lietuvos Gelezinkeliai and Orlen agreed on new freight tariffs. Can you tell how much impact these decisions had on improving the bilateral relations?
- On the railway?
Yes, and the decisions regarding the Renge section as well.
The situation was unresolved for many years and this was very difficult for Orlen but last year we were in discussion with the appropriate authorities here, with the minister for infrastructure and transportation and the company responsible for railway tracks in Lithuania and in Latvia because it goes across the Latvian-Lithuanian border. I am very pleased to have this whole dispute closed by now, which is an indication of improving relationship between Poland and Lithuania as well.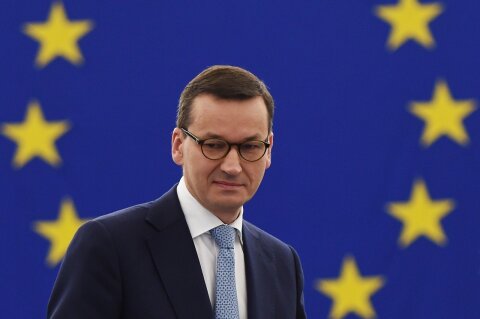 - So it was an indication, not the reason? The relations between Poland and Lithuania have been quite cold for the past decade and it looked like these decisions regarding Orlen could be the main reason for the relations to improve.
- Not the main reason but one of the reasons apart from some others in the areas of education, signage and so on. But today actually I would like to emphasize that Polish-Lithuanian relations are top-notch, are very good.
If I am correct with the translation regarding the statement you said in Mazeikiai, you said Lithuanian-Polish relations should go on and be good despite the mutual misunderstandings of the past. What did you mean by talking about misunderstandings?
Well, we used to be together, the Lithuanian-Polish states and nations were quite strong but towards the end of the 18th century, we lost our independence and in the 19th and 20th centuries, big external powers were messing around with our history. This is why in the 19th and 20th centuries our relationship was not as good as it should be. And now I am very happy that it is getting back to the very right track.
- I thought that you were also mentioning the minorities because it has been a sensitive topic of Lithuanian-Polish relations for years and some of the sensitive issues regarding those are still unresolved. Are you concerned about this and what do you still expect from the Lithuanian side?
- I realize that there is some progress with regard to the (Polish) letters on passports. If I understood correctly, the signage on your private houses can be using all the letters from the Polish alphabet. Regarding the public places, we are still negotiating with the authorities. So I can say some progress has been made but there is a way to go to eliminate all the obstacles.
- Regarding the United States military base in Poland, how are the negotiations going and when do you expect a final say from the US side?
- We expect it to be an evolution rather than an one-off decision and this is going in the very right direction. Four years ago there were 400 NATO and American soldiers on the Polish soil, and today we have 4,500-5,000 of them. So there is huge progress with regard to the presence of NATO troops and American troops in Poland.
Today we are in the phase of talking to the American secretary of defense and sthe ecretary of state about what kind of presence should this be in the near future and in the mid-term future. I am quite upbeat with regard to how the presence of NATO and American troops is painted and is depicted. We will be in a position to actually enhance the presence significantly in the next couple of years. And new types of weaponry will also be located in Poland as well.
- What is the benefit for Lithuania to have these US troops stationed in Poland?
It is very important. I started my visit today in Siauliai where this NATO base is. There is joint (air) traffic control and Polish troops and (their fighter jets) F-16 are doing this. This is one thing.
Another one is that in the military bases which are in the eastern part of Poland - not so far from Lomza, Suwalki - the presence of American troops and British troops is enhanced. Growing interconnectivity between Lithuania and Poland in terms of roads and railways, like the Via Baltica, the Rail Baltica, is actually creating a better space for joint military actions, security, (common) approach.
- Do you expect Lithuania to financially join Polish efforts to increase US presence in Poland? Have you received such proposals?
We have not discussed it so far but I can imagine that in the next few years cooperation in the military field between Poland and Lithuania can be even further strengthened and enhanced.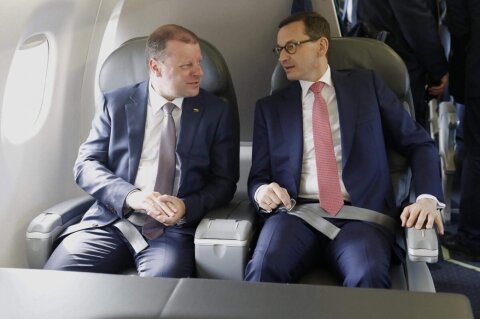 - With the US shifting its focus to China, how do you expect to convince it to stay in the Eastern flank, using the Russian argument?
- I think that Russian aggression is so visible, it is so clear to everybody, in particular in Ukraine, but also in Georgia, that the superpowers like the United States are fully aware of all the dangers which are in this part of the world. I agree with your statement that there is a strategic shift towards China but at the same time the US and EU countries have to strengthen their cooperation rather than weaken.
I am a great believer in transatlantic cooperation, I am very much pro-European, but at the same time pro-American and I think that this joint position of those two superpowers, which is very much concentrated in Washington and the other one is much more dispersed in the capital cities of EU countries, member states, it is vital to keep peace in the world, to promote democracy in the world, but in particular to secure safety and peace and security in this part of the world – for Lithuania, for Poland, for Ukraine, for Latvia.
- Polish President Andrzej Duda has invited Belarusian President Alexander Lukashenko to Warsaw later this year. Do you expect to agree on something?
- We hope that agreement in some areas will be possible. It is not easy because President Lukashenko is going his own way and for the past few years he's been more tilted towards Russia and then he is making some steps towards the West. But not withstanding this, I think the Belarusian society is changing and they are more and more Europeanized. And it's worth having as good interconnectivity with the Belarusians as possible.
Very few Polish companies are investing in Belarus but it is happening more and more these days. Business environment there is better for investment than in Ukraine, I have to say, because it is more predictable. (...) And from this point of view, we try to keep the door open for Belarus.
- Lithuania is not in top-level contact with Minsk and blocks the EU-Belarus agreement until the Astravyets issue is not resolved. Do you back this position?
- We support Lithuania, absolutely. We would like to be as friendly to Lithuania as possible, so we support Lithuania on those efforts with regard to Astravyets.
But it looks like that Lithuania's approach is different from Poland's because Poland wants to hold dialogue with Minsk and Lithuania is not willing to do that.
First, we are also worried about Astravyets. Second, our dialogue is not too intense, to say the least, it is about keeping the door open. As I said, it is not too much, it is just not closing it for each other rather than anything else.
- Are you informed about Lithuanian prime minister's recent proposal to Belarus to convert the nuclear power plant into a gas power plant?
- I heard about this, yes.
- Do you support it?
- If this was the way forward for improving Lithuanian-Belarusian relationship, I would definately support it, if this is possible.
A couple of questions regarding the EU agenda. This week the European Commission launched a third infringement procedure against Poland regarding the judicial system reform. What kind of support do you expect from Lithuania on that matter?
We actually treat it as a completely politicized issue in the hands of one of the commissioners (Frans Timmermans) who is completely misusing this in his political campaign. In Brussels more and more people understand that this is not appropriate what is going on there. So we are not extremely worried about this because we see that these are hostile steps which are very subjective.
- So how do you think these procedures will end?
- I have some hope that with the new European Commission there will be some reckoning and awakening, in particular after all the compromises we have done. We have changed a lot even if we did not agree with those changes and we expect that this would be realized and acknowledged.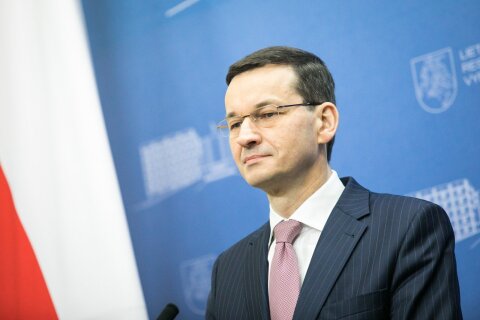 And the case has been the opposite so far, which should be a strong signal to all member states that the European Commission in the hands of this persona is not an honest broker. It should be an honest broker, this is the role of the European Commission according to the treaties, but it is not an honest broker.
- Do you think the shrinking amount of cohesion funds in the future EU budget is some sort of punishment for these reforms Brussels is concerned about?
- I see this in a different perspective. This was quite a similar amount of reduction proposed for Lithuania, the Czech Republic, Hungary, Latvia and many other countries in Central Europe. So it is not connected to what is happening in the context of our relationship with the Commission.
I see this from a different angle. It's Western European countries, which are quite rich, which would like to change the flows of money of the EU budget to increase their productivity and their competitiveness and not to let Central European countries increase our productivity and our competitiveness.
- So there is some competition between the East and West?
- Absolutely, I think. I encourage everybody to look at this from the perspective of investment made by Western Europe companies in Eastern and Central Europe, in Poland, in Lithuania, in other countries, from which they are taking huge dividends. Like from your floating terminal in Klaipeda, or from your banks, or from your Lithuanian insurance companies, which belong to foreign capital.
And it is a very similar situation in Poland. The poorer countries, like Lithuania and Poland, we pay enormous dividends. Poland pays 20 plus billion euro every year in interests, in interests on bonds and in dividends on shares to Western European capital. So it's like a huge transfer of money from poorer countries, like Lithuania and Poland, to richer countries.
I am emphasizing this to our Western European friends and reminding them of the situation in the context of the multiannual financial framework. They should be wary of those facts. The structural funds, the cohesion funds and so on, as well as the common agricultural policy, it is a kind of substitution to some extent for all the capital outflows which go in the other direction.
It is not completely comparing apples with apples, but this is money and this is money, so maybe it is apples and apples. These apples are coming from one tree, the other apples are coming from a completely different tree, I agree with that, but at the same time the context cannot be bypassed, cannot be not taken into consideration.
- Do you propose to Lithuania to join a common front to convince other EU member states to allocate more funds for cohesion and rural development?
Yes, absolutely so. By the way, Lithuania has already joined Poland in the so-called group of cohesion, friends of cohesion. There is a group of 16-17 member states and we stick together, we work together. There was a meeting recently held in Bratislava. We should stay together here because united we stand, divided we fall.
- Do you plan to establish some sort of other groups, regarding other budget lines? For example, both countries are seeking equal payments for farmers. So are there any grounds for further alliances with Lithuania?
- Yes, we work very closely with Lithuania on this. I spoke to Prime Minister Skvernelis on all those issues today and we are in a very frequent contact with regard to our approach to the European Union and I know that Prime Minister Skvernelis is very much focused on what kind of policy should be adopted to maximize our chances for success in the context of budgetary negotiations. And we are on the very right track to do so.
I am actually positively predisposed to the next MFF budget because I know that there won't be any budget without agreement of every country. So we are supporting the digital tax as the new source of revenues for the EU budget. We are supporting all the efforts to close or to reduce the VAT gap or the corporate tax gap.
In other words, (to take action against) tax havens, like the European Commission and the OECD are naming, Belgium, the Netherlands, Ireland, Luxembourg or Cyprus as a kind of tax havens. We are very vocal about them and we call them to actually stop their policies and procedures because we believe that this is a "beggar your neighbor" policy and this should not be the case.
- Are you thinking about a common Baltic-Polish gas market once the Lithuanian-Polish gas link (GIPL) is built? Would you be interested in buying gas via the Lithuanian LNG terminal and, also, would you be interested in selling gas to Lithuania and other Baltic states?
- Gas interconnectivity in terms of pipelines is very important for the security of gas supplies both for Lithuania and for Poland. Today we have to import gas and we do this from Russia and other countries. We have built our permanent terminal in Świnoujście, we are now building its capacity to 7.5 billion cubic meters.
We think about another floating terminal in Gdansk for 5 billion cubic meters. And we are now building all the possible interconnectors. We have already two with Germany, one with the Czech Republic, we are now in the process of building one with Slovakia and one with Lithuania, the GIPL one. The more interconnectors, the better situation both for Lithuania and for Poland. I do not exclude flows in any direction because it increases the security of our gas supplies.
- There have been unsuccessful attempts by some Polish banks to invest in Lithuania. Maybe you have any knowledge of any Polish bank considering investing in Lithuania?
- I have some knowledge of the banking sector in Poland and I know that they are looking very much into the IRR and other economic parameters. If the owners of the banks here in Lithuania request a price too high, the Polish banks won't be submitting their tenders.
As far as I know, there was a situation a couple of months ago. One of the banks was trying to approach some banking assets here but the price was too high. So, in other words, there is an interest in the Lithuanian banking sector by the Polish banks but not at any price.